A Sponge, A Starfish, And The Apocalypse
Whilst in Chicago for a totally different reason, I happened to flip on the TV and saw a commercial for The Spongebob Musical. I thought, "this could be really good or really bad." I checked BroadwayInChicago.com and tickets seemed to be sold out for the week. Next, I checked the TodayTix app on my phone and not only did they have seats available, they were only $39 (+ fees). Definitely worth the risk if it turned out to be bad. I ended up purchasing a ticket for night three of the pre-Broadway previews, night three!!! Opening night would have been a better get but seeing it in previews still garners theatre geek bragging rights. The seats were pretty awesome as well, Row G in Orchestra, pretty much dead center. Shout out to TodayTix.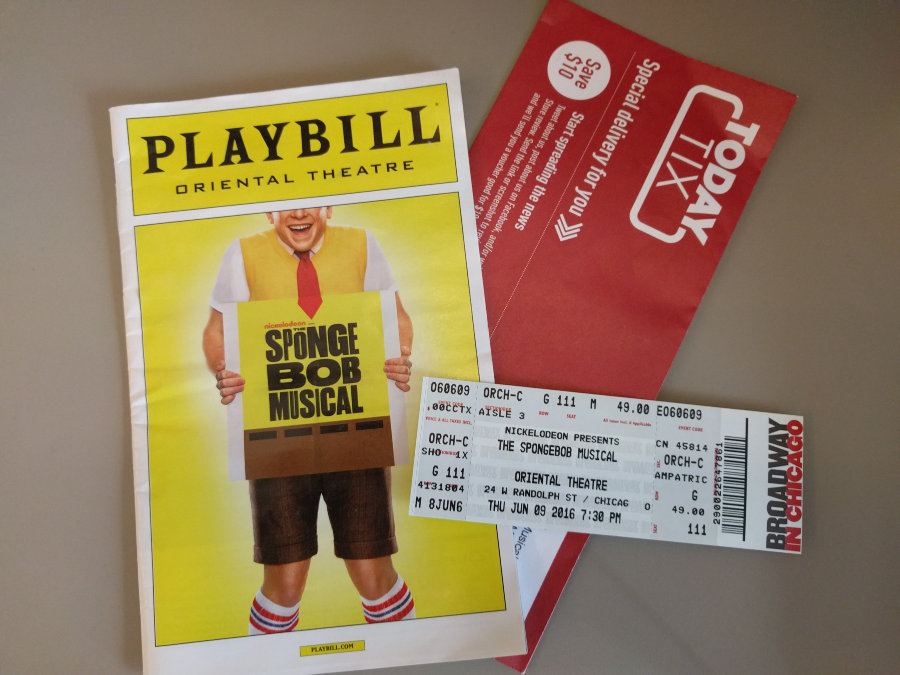 The Premise
It's just a normal Bikini Bottom Day until a series of events occur that threaten Bikini Bottom. Will Bikini Bottom be saved? Can Spongebob, Patrick, and Sandy save the day?
The Music
The music boasts a cadre of Grammy winning songwriters and artists ranging from pop to gospel to hip hop/soul to rock. I'm serious, look at them ...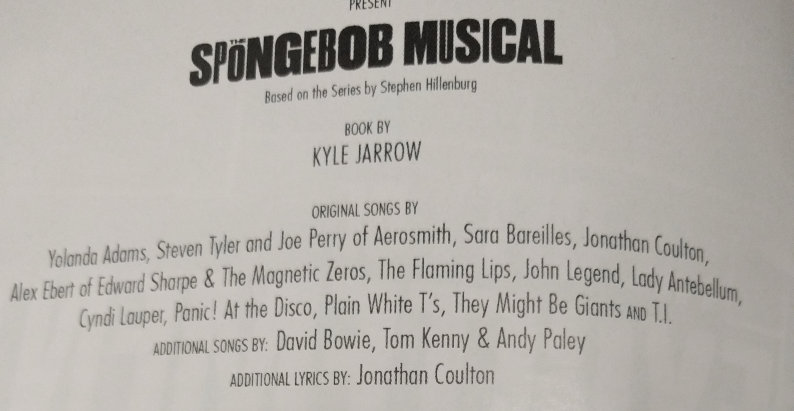 The songs balanced the iconic style of the original artist while fitting into and driving the story forward. "BFF" is so iconically Plain White T's that I wondered for a second if they just changed the lyrics of an existing song.
The Sets, Cast, and Costumes
The set was in many cases what I'd call an "Under the Sea" prom theme on a shoe string budget. Whereas it would be a fail at a prom, the cheapness made everything feel more cartoony. I marveled at the creativity in unconvential materials. I wouldn't have thought to make a coral reef out of pool noodles or a jelly fish from an umbrella. There was also a sort of Rube Goldberg machine that drives part of the story. As Dolly Parton said, "It costs a lot of money to look this cheap."
That creativity also extended to the cast costumes (sorry no pics, rules is rules). Even though some were somewhat literal translations from the cartoon versions, I mean there are only so many ways you can do Spongebob, there were little twists here and there were unexpected. Sandy the Squirrel was portrayed by a African-American actress with a fro. Not absurdly sized...kind of Pam Grier in Coffy. Just enough to hint at the helmet though wouldn't be feasible for a human jumping and dancing around. Another costume twist was the a crustacean of some sort whose shell was fashioned from traffic cones and a very colorful sea anemone. Mr. Krabs costume was pretty simple, just died hair and oversized boxing gloves, but it was one of the most successful. Pearl Krabs threw me for a loop but that's forgiven for several reasons: (1) I'm not an uberfan of the show and she's a relative minor character, and (2) the character is a sperm whale, there isn't much that you to mimic the character as a humanoid without greatly limitly the confort of the actress.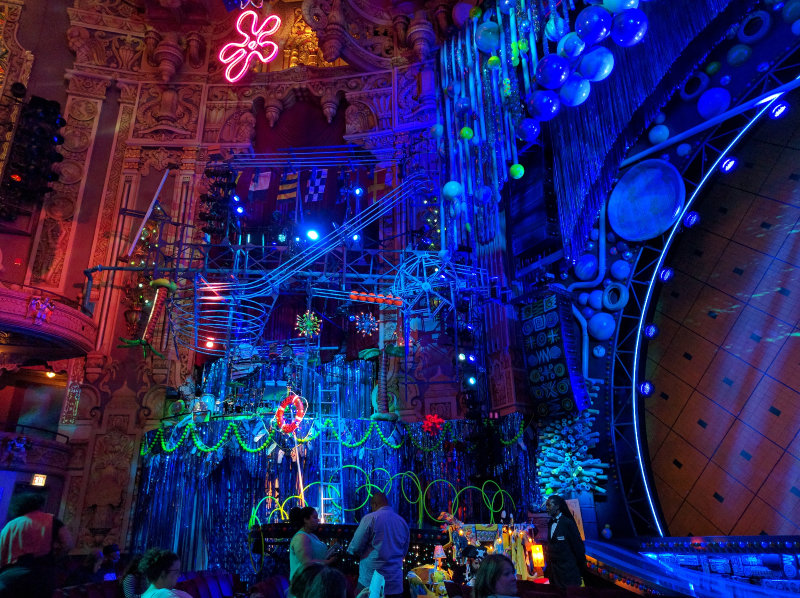 The humor
There's lots of classic Spongebob slapstick / physical comedy but there's also layered humor peppered in the show for the adults. It's a bit weird laughing at the sexual inneudo between Karen and Plankton whilst surrounded on two sides by kids laughing at the more accessible joke that came seconds before.
Should I go see it?
I'd say if you are mildly familiar with the cartoon and don't abhor it, you'll have a good time. I've watched maybe 5 episodes of Spongebob from start to finish and my cheeks were hurting from smiling and laughing so much. There's a tap dance number that brought the house down due to the skill and ermm challenges of our characters costume. It was a full-on Rockettes/A Chorus Line number. I loved the show so much if it weren't for work, I would have gone and seen it again.